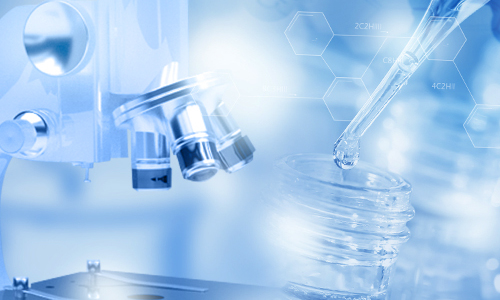 Introduction
The uncontrolled and rapid spread of COVID-19 has caused demand destruction across various industries, with some sectors such as tourism, aviation, automotive, and construction more heavily impacted than others. The crude oil market has been extremely volatile in 2020. This has been due to both a demand shock from the pandemic with demand for transport fuel, especially jet fuel, collapsing amid severely restricted air travel and a supply shock in March and April this year as Saudi Arabia increased its production and slashed its prices amid disagreements among OPEC+ members regarding production cuts. As of May, OPEC+ members agreed upon and largely adhered to production cuts, and oil prices started to recover from the previous lows. However, a bleak outlook continues to weigh on crude oil market sentiment with a resurgence of COVID-19 cases globally, uncertainty ahead of the US elections in November, and ongoing political tensions between the United States and mainland China. In addition, supply recovery is likely to outpace demand, especially with the gradual return of Libyan oil production following an eight-month blockage.
The relationship between propylene demand growth and economic growth is becoming more ambiguous due to the increasing influence of the technology and services sector on GDP growth and the correspondingly lower impact of manufacturing. Also, many products produced by propylene end users are increasingly being used for less cyclical, non-durable applications. This is resulting in a trend of lower multiples to GDP growth. In 2020, the GDP elasticity of propylene has been only 0.10 as global GDP has contracted by more than 5% amid the pandemic whereas propylene demand has been more inelastic, decreasing by only 0.6% year on year. The 2021-25 forecast period projects propylene demand growth at an average rate of 1.17 times GDP, which is lower than the 1-3 times GDP multiples in the last decade.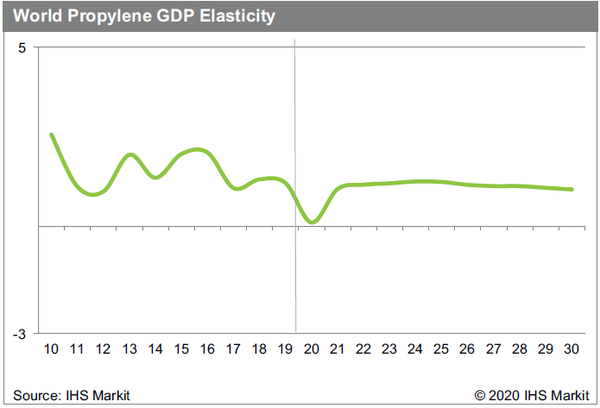 Global
In 2020, a projected 46% of global propylene supply will be produced as a coproduct from steam crackers while 30% will be produced by FCC splitters/HS FCC. Propylene production from steam crackers is influenced by the operating rates of crackers and the type of feedstock utilized. Regions that utilize mainly naphtha feedstocks for steam crackers, such as West Europe and Northeast Asia, generate the greatest amounts of steam cracker propylene coproduct owing to the high propylene yield of naphtha. In the past few years, naphtha feedstock has faced economic pressure from lighter feedstocks—especially ethane and propane due to increasing availability from the United States. However, this trend reversed in the second quarter of 2020 when naphtha prices collapsed along with crude oil prices while ethane and propane prices did not collapse by the same magnitude. In fact, some naphtha-based crackers in Northeast Asia and West Europe enjoyed a negative cost of production in the second quarter of 2020 when credits generated from coproducts from naphtha cracking could cover the feedstock and production costs.
As for propylene demand in 2020, polypropylene (PP) is the largest market and accounts for 68% of total propylene demand globally. Other key propylene derivatives include propylene oxide (7%), acrylic acid (4%), oxo-alcohols (7%), cumene (4%), and acrylonitrile (6%).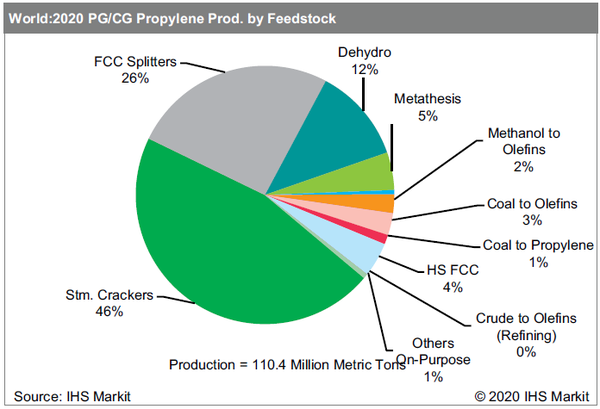 Northeast Asia
In Northeast Asia, PP is the largest derivative of propylene, accounting for approximately 66% of total propylene demand in 2020. Investments in other derivative products, including acrylic acid and propylene oxide, are expected to accelerate propylene consumption as well. Mainland China will still be the largest contributor of demand growth in the region, but the country's propylene demand growth from PP has slowed from close to 10% five years ago to a projected 6.1% AAGR over the next five years.
In 2020, declines in propylene demand going into key propylene derivatives such as acrylonitrile, cumene, oxoalcohols, acrylic acids, and propylene oxide due to sluggish automotive, plasticizers, coatings, and durable goods demand are being largely offset by increased demand from PP this year. PP demand has been boosted during the COVID-19 pandemic by surging demand for packaging, medical, and hygiene applications, which partially offset the reduced demand from the automotive sector. Also, propylene demand from PP has increased further as the low crude oil price environment has incentivized more virgin PP rather than recycled PP and boosted stocking activity in mainland China. Regarding supply, some new crackers and PDH projects have been slightly delayed for a couple of months due to the pandemic. Previously, it was anticipated that should all these supplies come onstream, the Asian propylene market would come under pressure. However, supply length has been reduced due to some new startup delays, prolonged unplanned outages, and a series of accidents at some crackers and refineries in the region, as well as lower propylene supply from refinery sources amid slow gasoline demand.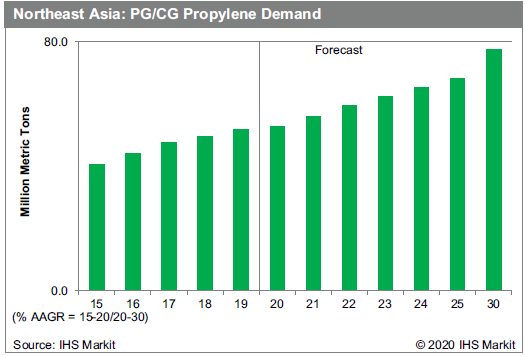 Source:https://ihsmarkit.com/research-analysis/propylene-industry-developments-in-northeast-asia.html?ite=992196&ito=1273&itq=889067fa-fa78-4e9a-80c0-52bf961f4a15&itx%5Bidio%5D=91995626