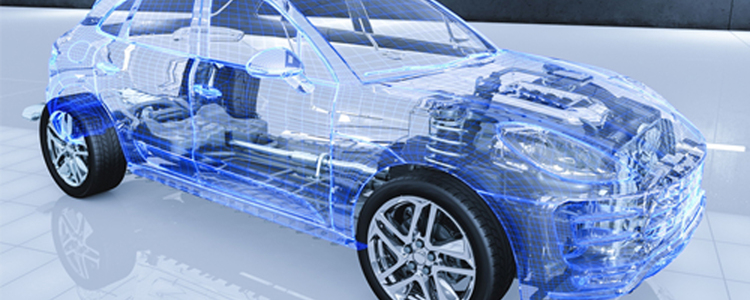 Report Overview
The Turkey automotive plastic compounding market size was valued at USD 278.9 million in 2019 and is expected to expand at a compound annual growth rate (CAGR) of 5.4% from 2020 to 2027. The market is projected to witness significant growth over the forecast period owing to the rising adoption of lightweight composites in automotive components to foster fuel savings. According to PAGEV, the Turkish Plastic Industry Association, the production of plastic goods increased by 3.4% in 2019. However, the recent outbreak of COVID-19 has severely affected automotive production in Turkey due to factory shutdowns from January to April 2020. This has negatively influenced the consumption of automotive plastics and their production dynamics.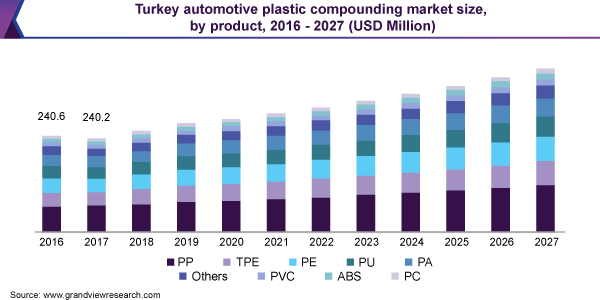 According to the data provided by PAGEV, Turkish Plastic Industry Association, the Turkish economy contracted by 2.4% in the first quarter and 1.5% in the second quarter of 2019. This led to a contraction in domestic demand, where industrial production slowed down and a decrease in industrial capacity utilization had a negative impact on the private sectors. In terms of domestic plastic consumption, in the first nine months of 2019, the plastics sector witnessed a 10% decrease on value basis as compared to 2018. Moreover, automotive production decreased by 6% in 2019.
Product Insights
The Polypropylene (PP) product segment led the market and accounted for more than 26.0% share of Turkey's revenue in 2019. This is attributed to rising demand from various end-use industries, such as automotive, packaging and labeling, textiles, stationery, medical equipment, and construction.
PE is the most widely utilized synthetic resin made from the polymerization of ethylene. Low density, liner density, and ultrahigh molecular weight ethylene copolymers are major compounds of PE utilized in several applications, such as clear bags, bottles, and automobile fuel tanks liners.
Cross-linked PE (XLPE) foams are consumed in various automotive components owing to their lower fogging value, lightness, weight saving, flexibility, excellent thermal properties, and chemical resistance. XLPE finds application in seatbacks, liners, air condition ducts, dashboard padding, wing mirror seals, door panels, windshields, and truck liners.
Thermoplastic Elastomers (TPEs) are polymers that offer both thermoplastic and rubber properties, which make it stretchable and retain its original shape, thus providing a longer life compared to other materials. TPE is recyclable and requires little or no compounding, leading to improved consistency in both raw materials and fabricated articles. TPE is utilized in numerous end-use industries, including automotive, household goods, building and construction, footwear, and medical and hygiene. In the automotive sector, TPE finds application primarily in suspension bushings due to its greater resistance to deformation compared to regular rubber bushings. Bumper fascia, grommets, strut cover bellows, clean air ducts, and airbag covers are other components in vehicles wherein TPE is extensively utilized.
Application Insights
The interior components application segment led the market and accounted for 35.0% share of Turkey's revenue in 2019. Numerous interior components such as headliners, load floors, seat bases, and rear package shelves are being constructed from high-performance plastics, such as ABS and GMT composites, instead of conventional metal, rubber, and other parts. Plastics are used to manufacture durable, comfortable, and aesthetically appealing components while contributing to noise reduction with low harshness and vibration levels.
Design flexibility helps manufacturers create integral, innovative, and single-piece lightweight parts while cutting down on costs and lead time, along with problems associated with vehicle redesign. PP is one such plastic making inroads in redesigning interior components, while reactor TPO plastics are increasingly being utilized to manufacture innovative interior airbag systems.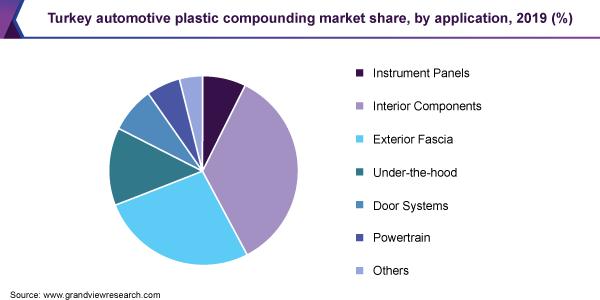 During the COVID-19 crisis, a decline in the demand was observed in the manufacturing sector of Turkey in the mid-March of 2020. The country's automotive exports decreased by 30%. Similarly, the demand for plastic compounding decreased. The automotive companies in Turkey have suspended their production activities. The demand for automotive vehicles declined as consumers were concerned about meeting their basic needs during the crisis. As the main markets for the Turkish automotive industry are European countries and about 75% of automotive production is sold in the European market, the production of automotive plastics and OEMs was negatively impacted by the decreasing domestic and foreign demand.
Source:https://www.grandviewresearch.com/industry-analysis/turkey-automotive-plastic-compounding-market