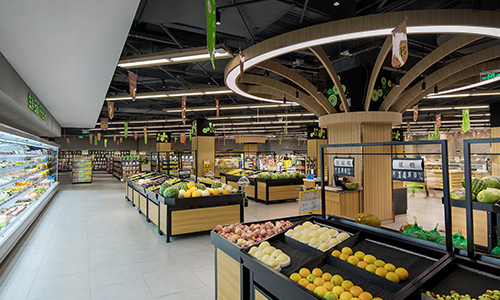 Report Overview
The global expanded polystyrene market size was valued at USD 9.7 billion in 2019 and is expected to expand at a compound annual growth rate (CAGR) of 4.6% from 2020 to 2027. Increasing demand for sustainable and lightweight solutions that provide extreme durability, coupled with improved thermal insulation, is projected to boost the growth of the market over the forecast period. Rising demand for acoustic and thermal insulation in the building and construction industry in developing economies, including China and India, is expected to increase the demand for high-quality polymers. Furthermore, rising demand among consumers for durable commercial and residential buildings, which can easily withstand extreme changes in the external environment, is expected to propel the market growth over the forecast period.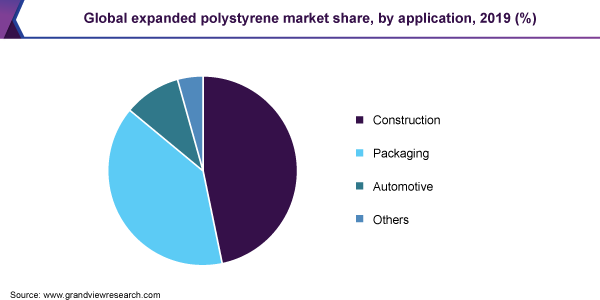 Product Insights
The white EPS product segment led the market and accounted for more than 57.0% share of the global revenue in 2019. This is attributed to the growing demand in packaging applications, such as food packaging including drink cups, food trays, and clamshell containers, consumer goods packaging, and electronics products packaging.
White EPS also finds applications in furniture, sports helmets, construction, and automobiles. Moreover, the growing food service industry, increasing number of eatable outlets, and demand for better quality of packaged food are projected to propel the demand for white expanded polystyrene in the packaging sector.
Grey expanded polystyrene offers enhanced performance as compared to white expanded polystyrene. Graphite is added to the mixture in grey expanded polystyrene, which improves the performance of expanded polystyrene. Grey expanded polystyrene is majorly used in construction applications and is costly as compared to white expanded polystyrene.
Global expanded polystyrene market share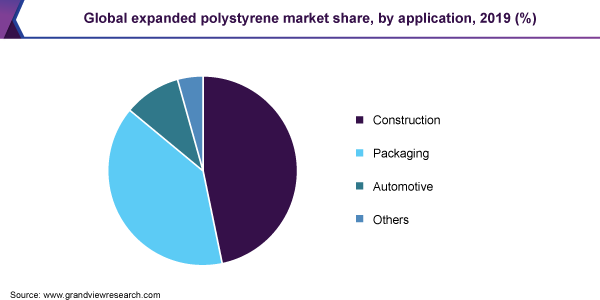 The packaging application segment accounted for the second-largest revenue share in 2019. This is attributed to the excellent shock-absorbing properties of expanded polystyrene, thus making it ideal for the storage and transportation of products, such as electronics equipment, consumer goods, wines, healthcare, and chemical products. Excellent moisture resistance and thermal insulation offered by expanded polystyrene help retain the freshness of perishable products, such as seafood and fruits and vegetables.
Furthermore, compression resistance offered by expanded polystyrene makes it ideal for stackable packaging goods. Thus, excellent properties offered by EPS are significantly increasing its demand for packaging applications. The outbreak of the COVID-19 pandemic is likely to have less impact on the packaging industry over the forecast period. The demand for packaging for healthcare products and food has increased sharply, while the demand for luxury, industrial, and some B2B-transport packaging has declined on account of the slowdown and halt in industrial operations.
The automotive application segment is anticipated to witness considerable growth over the forecast period on account of increasing demand for expanded polystyrene in automobile parts, such as storage compartments, headrest and seats, footpads, and bumper systems. Expanded polystyrene is used in the automotive application on account of its properties such as lightness, impact resistance, and shock absorption.
Regional Insights
Asia Pacific led the market and accounted for more than 54.0% share of the global revenue in 2019. This is attributed to ascending demand for the product from key applications, including automotive, packaging, and construction, in emerging economies such as China and India.
The construction industry in Asia Pacific is the fastest-growing market across all regions. Rising urbanization, rising disposable income, and government initiatives such as the "housing for all" project in India, are boosting the growth of the construction industry in this region.
Europe is the second-largest consumer of expanded polystyrene owing to high demand from the automotive, packaging, and construction sectors. EPS finds application in several industries due to its versatile benefits, lightweight, easy molding, and desired shape formation. In recent years, the demand for expanded polystyrene from green building design applications in the European market has witnessed a significant increase owing to its excellent environmental advantages that can provide improved indoor environmental quality, maximized energy efficiency, and enhanced durability.
Central and South America region is expected to witness substantial growth over the forecast period owing to the region's economic growth in the past few years. The recovering residential building and construction sector in Central and South America is expected to fuel the demand for EPS in the construction sector. Significant new investments in housing and public works by the government and green building construction initiatives are expected to boost infrastructural growth in Colombia, thereby propelling the demand for EPS over the forecast period.
Source:https://www.grandviewresearch.com/industry-analysis/expanded-polystyrene-eps-market