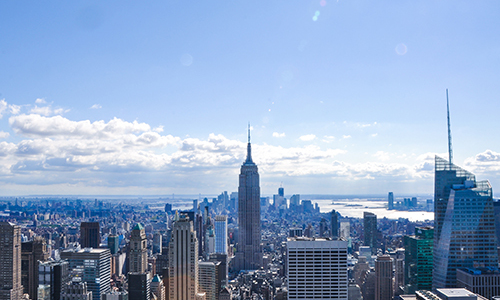 The global recycled plastic market size was valued at USD 45.1 billion in 2019 and is expected to grow at a compound annual growth rate (CAGR) of 5.0% from 2020 to 2027. Increasing plastic consumption in the production of lightweight components, which are used in various industries including building & construction, automotive, electrical & electronics, and others, is expected to propel the market growth over the forecast period. Amid the global COVID-19 pandemic, the demand for various packaging products has increased owing to the rise in the online purchase of electrical & electronics, personal care products, and personal protective equipment, such as gloves and face masks. This, in turn, is driving the demand for recycled plastics used in different types of packaging applications.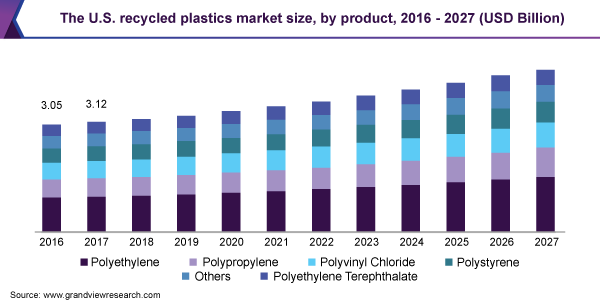 According to The Verge, the demand for affordable consumer electronic products, such as laptop, mobile, and modems, has increased significantly through eCommerce websites. Thus, the rise in the adoption of various consumer electronics has propelled the demand for recycled plastics in the electrical & electronics and packaging applications.
The growth of the construction industry in emerging economies, such as Brazil, China, India, and Mexico, is expected to drive the product demand in the manufacturing of components, such as insulation, fixtures, structural lumber, windows, and fences. The high product demand in the building & construction market can be attributed to increased foreign investments in the construction industry of these countries, as a result of easing FDI norms and requirements for redevelopment of public and industrial infrastructure.
Regional Insights
Asia Pacific led the market and accounted for over 46% share of global revenue in 2019. Asia Pacific construction industry is expected to witness considerable growth owing to the increasing number of non-residential construction projects, such as hospitals, schools, and colleges, which will drive the demand of roofing tiles, insulation, fences, floor tiles, and carpets, thereby boosting the market growth.
Europe ranks second in terms of revenue. The market is driven by the adoption of a circular economy to reduce the carbon footprint associated with the conventional method of plastic production by increasing plastic recycling in the region.
Landfill bans have resulted in the positive growth of plastic recycling in European countries. As landfill taxes in some European countries are extremely high, dumping becomes more expensive than plastic recycling. This encourages the collection and recycling of plastic waste.
The market in North America is driven by the growth of the major end-use industries, such as electrical & electronics, construction, and packaging. Rising demand for packed & processed food and rising construction industry in the U.S., Mexico, and Canada is anticipated to augment the market growth over the forecast period.
Source:https://www.grandviewresearch.com/industry-analysis/recycled-plastics-market