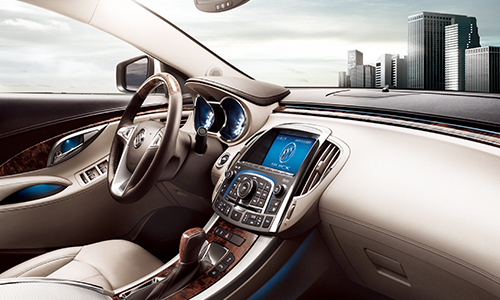 Global Adhesive Tapes Market: Key Highlights
●The global demand for adhesive tapes stood nearly US$ 62.5 Bn At present and is projected to reach over US$ 111.6 Bn by 2027. Owing to the rise in awareness among competitors with regards to the benefit of adhesive tapes, the market for adhesive tapes is expected to increase at a progressive speed in the forthcoming years.
●Various research and developmental activities have led to the growth of the application category and thus, the market seems to be growing at a remarkable speed. The new trend of substituting bolts, screws, rivets and other attaching or fastening techniques with adhesive has been leading to the progress of the adhesive market at a global rate. Besides, there is new demand for light weight vehicles and this is also adding fuel to the growth of the adhesive market.
●The fact that adhesives are nature friendly and do not cause any harm to the environment acts as an advantage and thus, adds to the overall growth of the adhesive tapes market in all parts of the world.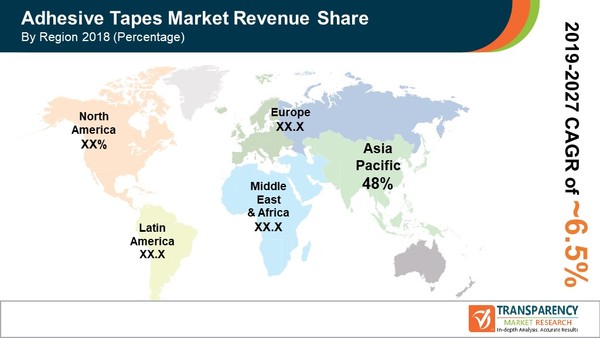 Global Adhesive Tapes Market: Segmental Insights
●The electronics industry employs pressure sensitive tapes and adhesives to install parts directly in devices. The trend toward miniaturization of electronic devices, especially cell phones, portable personal computers, and tablets, is a major factor driving the adhesive tapes market globally.
●Increase in disposable income, changes in lifestyles of the people, and rise in dependence on the usage of electronic devices are boosting the sales of electronic devices in Asian countries.
●Adhesive tapes are extensively employed in various automotive applications such as wire harnessing, electric insulation, automotive body repairs, masking, and surface protection. Increase in usage of adhesive tapes in automotive interior parts to provide better resistance and excellent adhesion ability is likely to propel the adhesive tapes market during the forecast period.
●Demand for adhesive tapes has been rising in the packaging end-user industry, due to its wide range of applications including carton sealing, bundling, unitizing, pelletizing, and general packaging.
●Double-coated tapes are anticipated to replace traditional sealing and adhesion techniques, due to their rise in consumption owing to their durability, good surface adhesion, and high shear strength. Strong production base; rapid growth of the automotive sector; and replacement of traditional fasteners, screws, bolts, and rivets with adhesive tapes are estimated to propel the adhesive tapes market across the globe.
●Single-coated adhesive tapes dominated the global adhesive tapes market. Single-coated tapes consist of adhesive applied to one side of a backing. The adhesive could be composed of natural rubber, silicone, or acrylic, while the backing material could be polymeric film, paper, foil, nonwoven, or high thread count woven cloth. These tapes, which include masking and medical tapes as well as electrical, carton sealing, and BOPP adhesives facilitate the bonding of a material with a surface as well as the linking of two adjacent or overlapping materials.
Global Adhesive Tapes Market: Regional Insights
●Asia Pacific is expected to grow with a promising rate in the coming years owing to the development in technology. Moreover, raw materials are easily available in Asia Pacific and the manufacturing infrastructure is also developing with the advent of time.
●North America and Europe are mature markets for adhesive tapes with presence of various small scale players and local manufacturing facilities. The U.S. and Italy are among the key producers of adhesive tapes.
●Middle East & Africa is also an attractive market for adhesive tapes owing to the significant increase in commercial & infrastructure activities and existing low market penetration in the region.
Source:https://www.transparencymarketresearch.com/adhesive-tapes-market.html