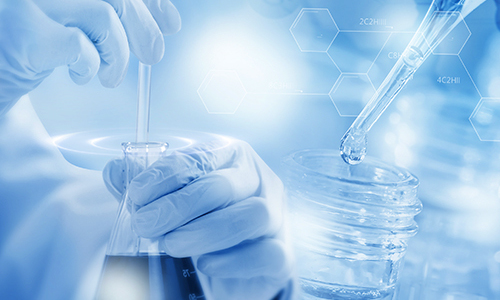 ●The global Styrenic Polymers Market for Medical Applications was valued at US$ 3,028.2 Mn in 2018 and is anticipated to expand at a CAGR of 6.6% during the forecast period.
●Used in a number of surgical instruments, connector tubes, portable medical devices, liquid containers, and bags, styrenic polymers and copolymers are seeing a rapid increase in demand for their superior properties such as high abrasion resistance, and dimensional stability. Besides, these have better processing time lines that other plastics. But, there are also other factors associated with these polymers that are not directly associated with the polymer properties but nonetheless, add to growing popularity. These include low cost and versatility in design.
●Additionally, it is also worth noting than in some countries use of PVC (poly vinyl chloride) is now banned or at least restricted, leading to a higher demand for styrenic polymers.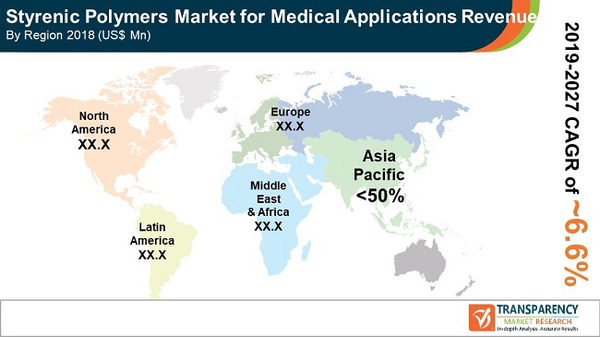 Key Drivers of Global Styrenic Polymers Market for Medical Applications
●Polyvinyl chloride (PVC) is a highly popular thermoplastic that is used in medical applications across the world. Usage of PVC has been a growing concern over the last decade, as it contains phthalates, which is hazardous to the environment. Demand for thermoplastic elastomers has increased in almost every end-use industry (including medical and health care) in the quest for environment friendly alternatives for PVC.
●PVC is utilized in the medical and healthcare industries to manufacture devices for the storage of IV fluids, dialysis solutions, blood bags, tubing, and connectors. This is due to PVC's clarity and its ability to withstand temperatures ranging from as low as -40°C to as high as 120°C. However, the increasing impact of PVC on the environment through release of dioxins is changing its market dynamics.
●There exists a threat that PVC is likely to contaminate IV fluids and migrate into the human body. Therefore, thermoplastic elastomers, primarily SBCs, are increasingly employed over PVC in medical applications. Thermoplastic elastomers are plasticizer-free materials. These cause no or very less harm to the environment. Various countries have already banned the usage of PVC in medical IV bags/CAPD bags, catheters, and many other medical devices.
●Restrictions on PVC in medical applications have benefitted other plastics such as styrenic polymers. A new family of hydrogenated SBCs has found new applications in the medical market. According to the U.S. FDA, thermoplastic elastomers (TPEs) are best suited for applications that require UV stability, and are safe to be utilized in medical devices and equipment.
●Styrene block copolymers are halogen and plasticizer-free materials with superior abrasion resistance. These exhibit good mechanical performance. This shift in trend toward lower reliance on PVC materials is a major factor driving the medical styrenics market.
Advancement in Medical Technology to Boost Opportunities for Global Styrenic Polymers Market for Medical Applications
●Medical technology has also evolved in recent years. This has led to the conceptualization of portable medical devices with complex functionality. The medical device industry invests significantly in new product development to meet the evolving needs of the healthcare market.
●Plastics have become the preferred medical device manufacturing materials. Expansion of the medical devices market is expected to further boost the demand for medical plastics (including styrenic polymers).
High Price of Styrenic Polymers Compared to Other Commodity Thermoplastics to Hamper its Demand in Medical Applications
●Styrenic polymers offer several functional and environmental advantages over other plastic families such as PVC, polypropylene, and polyethylene. However, the higher price of common styrenic polymers (such as polystyrene and ABS) over its competitors restrains the market to some extent.
●Utilization of polyethylene in medical applications is rapidly increasing. Its usage is rising at a more rapid pace, as compared to polystyrene, partly due to its low price.
The cost for medical grade plastics is considerably higher than general grade plastics. PVC is a highly inexpensive commodity thermoplastic material that is employed in medical device applications.
●ABS was the highest priced plastic among all plastics. ABS is not considered a commodity thermoplastic; however, the high rate of commoditization is undeniable. The average price of ABS is almost three times that of the lowest priced PVC.
●The price sensitive nature of the market, especially in Asia Pacific, is anticipated to hamper the market for styrenic polymers due to its high prices. However, the prices of styrenic polymers are estimated to decline due to the rapid fall in prices of raw materials in recent years. This is projected to boost the demand for styrenic polymers.
source:https://www.transparencymarketresearch.com/pressrelease/styrenic-polymers-medical-applications-market.htm