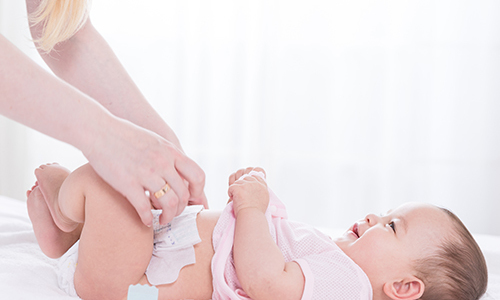 The global hot melt adhesives market size was valued at USD 6.7 billion in 2019 and is expected to grow at a compound annual growth rate (CAGR) of 5.2% from 2020 to 2027. Increasing demand from the packaging and non-woven products application is a significant factor in driving the market growth. Unlike their solvent- or water-based counterparts, hot melt adhesives (HMAs) do not require drying or curing. They can be applied in their molten state and, therefore, can be bonded immediately after the application; this gives them the distinct advantage of faster processing times in various applications including packaging, nonwovens (diapers, and female hygiene products), furniture, industrial assembly, and others. The U.S. market is likely to witness a significant decline in 2020 owing to the supply chain disruption and diminishing demand caused by the COVID-19 pandemic. However, the market is likely to take a sharp upward turn in 2021 and reach to pre COVID-19 level owing to a recovery in demand from the packaging, industrial assembly, and nonwovens industries.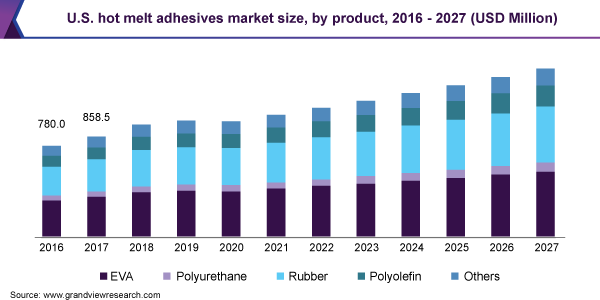 Ethylene-Vinyl Acetate (EVA) led the market in 2019 and accounted for the global revenue share of more than 40.0% in 2019. EVA is highly durable, versatile, and possesses strong adhesion properties, due to which, it is extensively used in packaging and woodworking sectors.
Rubber (styrene block copolymer) segment is predicted to witness the fastest CAGR of 5.6%, in terms of revenue, from 2020 to 2027. The product is mainly used to manufacture pressure-sensitive products like tapes, labels, and graphics. The rising demand for tapes and labels from the packaging sector is likely to aid segment growth over the coming years.
Asia Pacific dominated the market and accounted for more than 48% in 2019. It is also expected to be the fastest-growing regional market with a CAGR of 5.6%, in terms of revenue, from 2020 to 2027. Rapidly expanding packaging manufacturing base in the region coupled with rapidly increasing demand for nonwoven products is the prominent factor driving the market growth in the Asia Pacific.
North America is estimated to register a CAGR of 4.1%, in terms of revenue, from 2020 to 2027. North America packaging sector is likely to be the crucial driver for the market growth due to the presence of some of the largest packaging manufacturers, such as Ball Corporation, International Paper, and Owens-Illinois.
Europe is predicted to witness sluggish growth, in terms of volume, from 2020 to 2027. The halt in the manufacturing activities due to the COVID-19 pandemic across several developed economies in Western Europe, such as Germany, the U.K., Italy, Spain, and France, is likely to drastically affect the product demand in the short term.