The global plastic resin market size was valued at USD 693.7 billion in 2019 and is projected to expand at a compound annual growth rate (CAGR) of 4.0% from 2020 to 2027. Surging demand from construction, automotive, and electrical and electronics sector are the key factors expected to have a positive impact on the market growth.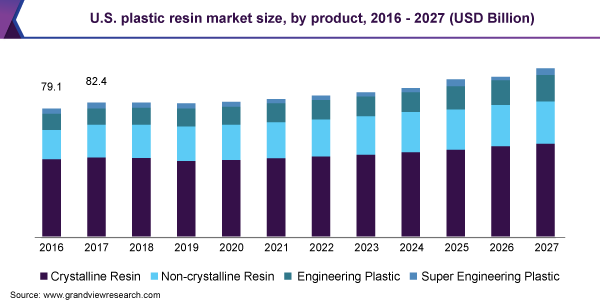 Rapidly developing automotive industry is expected to trigger the demand for plastic resins in under hood components, exteriors and interiors of automobiles. Increasing application of resins in automotive industry is spurred by demand for lightweight and inexpensive multi-utility vehicle models with high fuel efficiency and emphasis on aesthetics and comfort.

Consumption of plastic resins is expected to observe significant growth in the healthcare sector owing to the increasing production of personal protective equipment's such as face masks, face shields, medical gowns, and various medical devices supported by COVID-19 pandemic across the globe.

Increasing construction spending by governments, especially in India and China is expected to push the demand in infrastructure and construction applications. In, 2019, Asia Pacific emerged as one of the fastest-growing construction markets. China, Japan, Indonesia, and Australia are among the prominent countries where construction market is expected to witness prominent growth over the forecast period.

Type Insights
In 2019, crystalline resins segment held the maximum share of 61.7% in plastic resin market and is expected to maintain its dominance throughout the forecast period. Polyethylene resin accounted for prominent share in the crystalline resin segment owing to their increasing demand from food packaging, stretch wrap, hygiene, and medical applications, among others.

Non-crystalline resin segment accounted for around 1/5th of the overall revenue share in 2019. However, the demand is expected to decline over the forecast period, owing to the increasing utilization of other polymers such as polyamide, polyether ether ketone, and liquid crystal polymers.

Engineering plastic segment accounted for small share in the market, however it is expected to witness above average CAGR during the forecast period owing to their better mechanical and thermal properties. These types of plastics possess good mechanical properties, wear resistance, chemical resistance, and dimensional stability.

Super engineering plastic segment was valued at USD 58.1 billion in 2019 and is expected to grow at a CAGR of 3.6% during the forecast period. This can be primarily attributed to their better electrical and thermal properties. They are widely utilized in semiconductor packaging, high-speed connectors, packaging and medical applications, etc.
Source:https://www.grandviewresearch.com/industry-analysis/plastic-resins-market