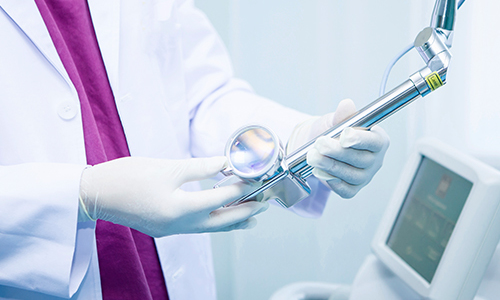 The global medical 3D printing plastics market size was valued at USD 209.1 million in 2019 and is expected to grow at a compound annual growth rate (CAGR) of 26.6% from 2020 to 2027. Growing ageing population, increasing healthcare awareness, and COVID-19 pandemic situation are some of the major factors driving the market for medical 3D printing plastics. The market is primarily driven by rising demand for face mask, head and shoe cover, surgical mask and gloves, personal protective gowns, and various other products in tackling the COVID-19 pandemic situation. Besides personal protective wearables, medical 3D printing plastics are widely used in the manufacturing of medical products, such as dental and bone implants, catheters, prosthetics, and various other medical devices.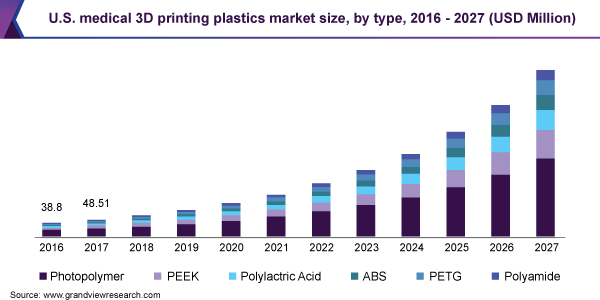 In order to overcome the COVID-19 pandemic situation, various automotive companies such as Ford Motor Company, General Motors Company, and Tesla have started producing masks and face covers using state of art 3D printing technology to cater to the sudden increase in demand for these products. Additionally, various fashion industry companies such as CHANEL, Burberry Limited, Guccio Gucci S.p.A., Dior, and Louis Vuitton have started producing mask and face covers, which is driving the demand for medical 3D printing plastics.


Thermoplastics like PEEK, polylactic acid, and photopolymers are among the commonly utilized plastics in the medical 3D industry on account of the biodegradable nature of the material. Major technologies utilized by the medical industry for 3D printing include stereolithography (SLA), digital light processing (DLP), selective layer sintering (SLS), fused deposition modelling (FDM), electronic beam melting (EBM), and polyjet/inkjet 3D printing.


Key factors propelling demand for medical 3D printing plastics include cost effectiveness, ease in customization, and growing incidences of vascular and osteoarthritis diseases. Moreover, improved technology, favorable government support, and rapid product development are expected to propel demand for medical 3D printing plastics over the forecast period.
Source:https://www.grandviewresearch.com/industry-analysis/medical-3d-printing-plastics-market