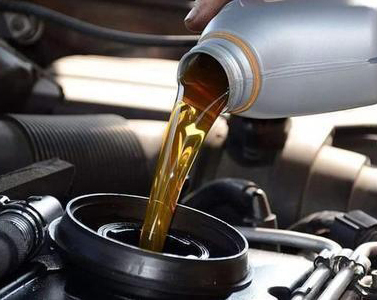 The U.S. lubricants market size was valued at USD 19.18 billion in 2019 and is anticipated to expand at a moderate CAGR of 3.1% from 2020 to 2027. High volume sale of premium products is projected to drive the U.S. market for lubricants in future. Automotive and industrial are the major applications of lubricants accounting for over 90% share in the U.S. market. Demand for lubricants is increasing from the industrial sector owing to rising production of chemicals, food, and electronics in U.S.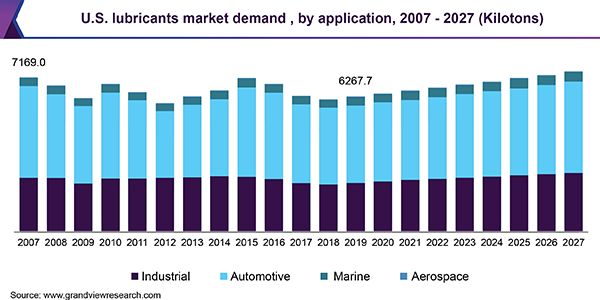 Industrial engine oil is anticipated to remain a major contributor to the growth of the overall lubricants market in U.S. This lubricant is utilized to offset operating costs by substantially decreasing wear and tear of the heavily moving mechanical components. It also aids in reducing consumption of fuel since they have low coefficient of friction, which eventually helps to keep the engine parts clean, perform optimally, and deliver optimum combustion efficiency.


Since the automotive and industrial sectors are the key application areas of lubricants in U.S., there have been multiple developments in the ecosystem revolving around product development, strategic product placement, value chain optimization, and others. Introduction of new standards and regulations is expected to boost the demand for high-value engine lubricants and synthetic formulations. However, the automotive and industrial segments are expected to witness saturation owing to the presence of a large number of market players in U.S. The aviation and marine industries are expected to witness rapid growth over the coming years. These segments provide opportunity for the U.S. manufacturers to offer high margin lubricants.


Several innovative players such as ExxonMobil Corporation, Royal Dutch Shell, and Chevron Corporation are present in the U.S. lubricants industry. The market has been characterized by intense competition since all the key industry participants are engaged in expanding customer base to gain a competitive advantage over other players in the ecosystem. Companies in U.S. are increasingly adopting collaborative business strategies in order to provide highly regarded lubricants to their consumers, enhance productivity, as well asexpand their presence across U.S.


The market structure is highly fragmented with a large number of small, medium, and large players. The major differentiating factor is the depth of the product mix. Major companies are investing in upstream facilities to support their high margin downstream operations. Tie-ups with distribution companies and increasing territorial expanse are expected to influence the lubricants market growth over the forecast period.


The U.S. lubricants market is currently undergoing a transition phase that involves coping with changing fuel requirements, decreasing demand for fossil fuels, and influx of bio-based counterparts. Manufacturers are majorly focusing on improving their product portfolio with new product introduction aimed at keeping pace with future requirements. Oils that are used in the renewable sector, such as Mobil SHC series by ExxonMobil, are expected to be the major area of innovation for a large number of manufacturers.
Source:https://www.grandviewresearch.com/industry-analysis/us-lubricants-market