The global building & construction tapes market size was estimated at USD 4.30 billion in 2019 and is expected to register a CAGR of 4.5% over the forecast period. Rapid growth of the construction industry in Asia Pacific coupled with increasing penetration of adhesive tapes in the industry for bonding of trims and window attachments, is expected to drive the growth.
Building and construction tapes are used in residential, commercial, and industrial buildings for bonding and mounting components on doors and windows, decorative trims or wall coverings, panels to frames, and protective bumper rails to furniture and walls. These products are used as carpet, duct, double-sided, UV resistant, and masking tapes.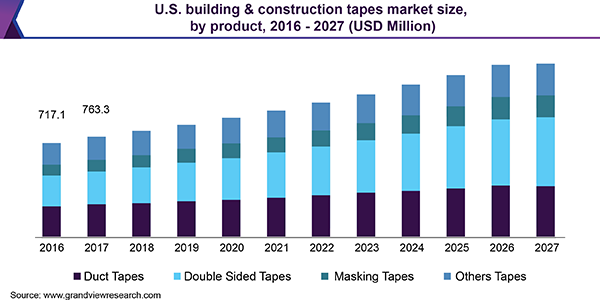 The demand for tapes in U.S. is expected to witness growth over the forecast period on account of the growth of the home refurbishing market. In addition, the demand for lightweight materials is likely to gain impetus owing to the increased adoption of such products for bonding and protection. Furthermore, the market is anticipated to be driven by the introduction of advanced products by manufacturers in the country.
Increased demand for taping materials in the developed economies, such as Germany and U.S. for various applications in the residential sector, is likely to drive the demand for bulding and construction tapes. In addition, rising awareness regarding the superior aesthetic appeal provided of these products, coupled with the ease of building refurbishing, is expected to complement growth over the forecast period.
Increasing production of paper and bioplastic based adhesive tape backing-which is considered to be stable, safe, and ecofriendly-is likely to gain popularity, owing to rising awareness regarding environmentally safe products. In addition, the use of advanced products such as silicone-based resins in coating formulation is likely to augment market growth in the forthcoming years.
The primary raw materials used for the production of building and construction tapes include polyvinyl chloride, polypropylene, acrylic, styrene-butadiene rubber, plastics, and paper. The volatility in the prices of crude oil has a direct impact on the costs of the aforementioned raw materials, resulting in price fluctuation of the final product, thereby restraining market growth.
Source:https://www.grandviewresearch.com/industry-analysis/building-construction-tapes-market