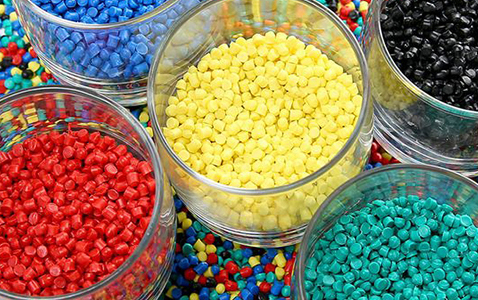 Industry Insights
The Southeast Asia plastic compounding market size was valued at USD 3.4 billion in 2018 and is projected to progress at a CAGR of 8.9% over the forecast period. Increasing demand for substitution for glass, metals, wood, natural rubber, and man-made materials such as concrete is anticipated to drive the market growth. Versatility and benefits of compounded plastics such as ease of molding and ability to form the desired shape are leading to its rising demand in various industrial applications in Southeast Asia.
Plastic compounding is an elaborate process with various stages such as determining additives ratio, high speed mixing via twin screw extruders, melt mixing, and cooling before final pellet cutting and packaging. A diverse range of products is available in the market depending on the additives and fillers integrated while processing the polymers including antioxidants, processing aids, colorants, wear-resistant blowing agents, lubricants, fillers and reinforcements, antistatic agents, slip/anti-slip agents, anti-block agents, flame retardants, light stabilizers, impact modifiers, and cross-linking agents.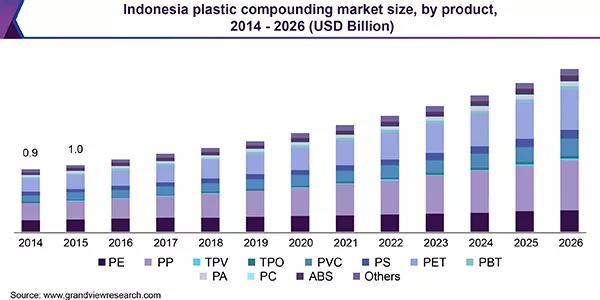 Indonesia was the largest plastic compounding market in Southeast Asia in 2018 and the trend is likely to continue over the forecast period.The demand for plastic products made from compounding process is expected to be driven with the robust growth in construction industry in Indonesia.In addition, wind energy capacity addition targets are expected to drive the demand for plastic compounding in wind energy application segment in the country over the forecast period.
Application Insights
Southeast Asia compounding market caters to various applications including automotive, building & construction, electrical & electronics, packaging, consumer goods, industrial machinery, medical device, and optical media. Rising demand for lightweight vehicles and stringent environmental regulations regarding CO2 emission are expected to potentially drive the demand for plastic compounding in automotive industry over the forecast period. Automotive application segment dominated the Southeast Asia market in terms of revenue and held 24.2% share in 2018. The segment is projected to continue its domination, augmenting at a CAGR of 9.1% over the forecast period.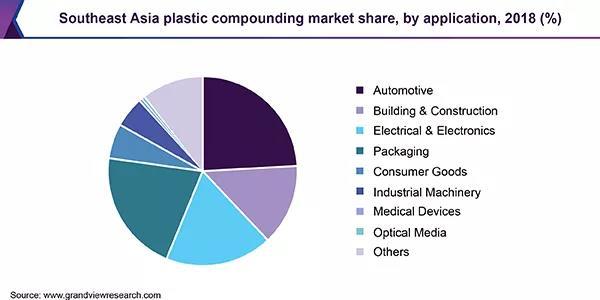 PP and PET compounds are widely used in various automotive applications such as exterior body parts, casing & housings of wiper arms, bumpers, moldings, ignition, front grilles, cladding, and roof trim. The demand for compounded plastic products in packaging industry is driven by high consumerism in major economies such as China, India, Germany, the U.S., and Brazil. Various regulatory bodies have stipulated guidelines regarding the use of packaging materials in food contact applications. Polypropylene compounding offers a cost-effective packaging solution and helps enhance impact strength, flexibility, clarity, and process efficiency.
Country Insights
Southeast Asia has been witnessing strong growth in recent years. Thailand and Indonesia are the two largest automotive markets in the region. Thailand is the leading automotive manufacturing and assembly hub.In addition, the Philippines and Vietnam are likely to be the fastest-growing automotive sectors in Southeast Asia region over the forecast period. Rising per capita income and competitive bank lending rates have played a significant role in triggering the growth of Southeast Asia plastic compounding market.
Increased output from automotive and construction industries in Southeast Asia in the past few years has been driving the plastic compounding market. Increasing adoption of energy-efficient vehicles (EEVs) is anticipated to drive the growth of automotive industry. Robust demand for automotive parts and components is likely to trigger the demand for compounded products in Southeast Asian region over the forecast period.
In Vietnam, manufacturing sector is a significant contributor to the country's GDP and ease of foreign direct investment in the sector is expected to be an important factor driving the growth of plastic compounding market. The presence of lower wages in the country in comparison to other countries in Southeast Asia region is also an important factor fueling the growth of manufacturing sector.
Source:https://www.grandviewresearch.com/industry-analysis/southeast-asia-plastic-compounding-market