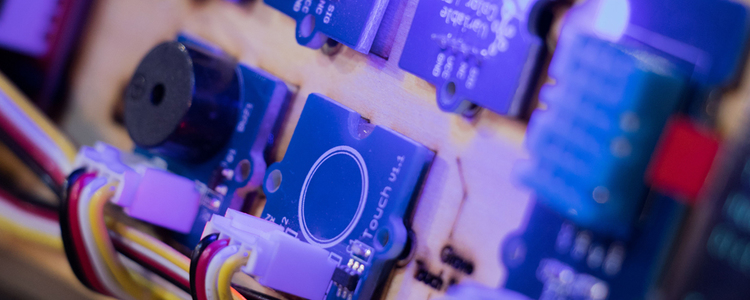 The global Polyphenylene Sulfide (PPS) market size was estimated at USD 1.19 billion in 2018. It is anticipated to expand at a CAGR of 8.8% during the forecast period. Polyphenylene sulfide is a crystalline polymer, whose high chemical resistance and temperature performance among other properties are projected to fuel the demand over the next few years.
Utilization for manufacturing various electronic components such as coil formers, connectors, circuit breakers, micro switches, HDD actuators, bobbins, relay components, terminal blocks, brush holders, thermostat parts, motor housings, as well as switch components is projected to augment the demand for PPS.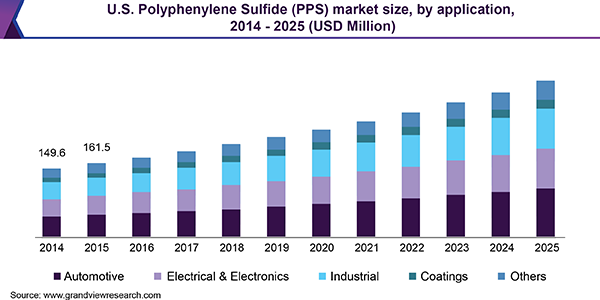 Automotive and electronics and electrical were the prominent application segments in 2018. PPS has vast scope of application scope within the automotive industry resulting in the increased demand from automotive manufacturing countries such as India, China, and Japan. The segment is also likely to exhibit the fastest CAGR owing to growing need for light weight and higher stability in automobiles.
Polyphenylene sulfide finds application in aerospace and defense. PPS composites have been used for making rudders and elevation in the Gulfstream G650 business jet in the past. They are projected to find greater use in airplane manufacturing with the increasing use of composites for manufacturing airplanes such as the Airbus A380 and Boeing 787 Dreamliner, which use up to 50% of composites in the primary structure including fuselage and wing.
PPS market size is anticipated to witness significant growth over the next eight years owing to increasing demand from various sectors including automotive, electronics, industrial, and aerospace. Rising consumption of the compound in high-temperature applications owing to superior performance and mechanical characteristics is projected to drive the market over the next few years.
Increasing use in various automotive parts such as engine components, switches, transmission components, pistons, and coolant systems will fuel industry growth. Increasing automotive manufacturing especially in China, Indonesia, Mexico, U.S., Germany, South Korea, Japan, Taiwan, and Malaysia will promote market expansion in the upcoming years.
Polyphenylene sulfide is 100% recyclable, increases fuel economy, and reduces emission levels. All these factors are likely to driver the product demand from different end-use industries. High preference for PPS over to metals owing to weight reduction is likely to further propel the demand. However, the presence of substitutes including PEEK and PEI along with fluctuating raw material costs is projected to challenge growth over the next eight years.
The use of PPS in automobile parts and as filter bags in coal-fired power plants is anticipated to witness growth in near future. Automotive industry is likely to witness robust growth in countries such as India, China, and Brazil. The need for lower emissions and higher fuel economy has resulted in increased focu.
Source:https://www.grandviewresearch.com/industry-analysis/polyphenylene-sulfide-pps-industry