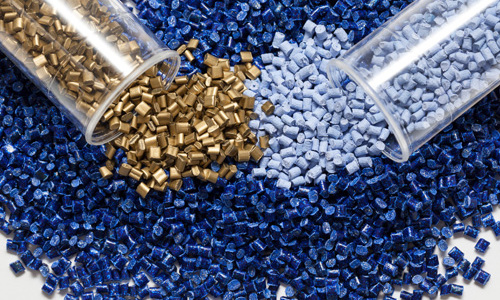 The additive is readily incorporated into TPUs and is said to has fewer undesirable secondary effects than conventional silicone products. It complements Wacker's portfolio of silicone-based additives for the compounding of thermoplastics. The product has been specifically developed with TPUs in mind, but can be used for modifying other thermoplastic elastomers as well. For example, the product, which is supplied in pellet form, can markedly boost the properties of thermoplastic polyamide and copolyester elastomers. It is a silicone copolymer and can be processed like a thermoplastic.
It disperses very finely and homogeneously throughout the polyurethane matrix. The copolymer becomes physically bound to cisely the type of surface which end users expect of articles which they frequently touch or wear against the skin. The additive pellets are easy to meter, and in corpora ting them into thermoplastic polyurethanes on conventional compounding extruders is straightforward. The resulting compounds can then be injection moulded and extruded to parts and film respectively. The compounds also lend themselves to two-component injection moulding because the additive does not interfere with the good adhesion properties of the polymer. This means it is possible to cost-effectively produce hard/soft combinations in which the soft component has a particularly pleasant feel.
A characteristic feature of articles made with blends of TPU and the new additive is a silky-soft surface with a dry feel. This is pre-Surface test of a TPU part modified with Genioplast Pellet 345. The additive boosts the surface smoothness, thereby enhancing scratch and abrasion resistance. Moreover; surfaces become more resistant to contamination by foodstuffs and cosmetics.
By virtue of this property set, Genioplast Pellet 345 has extended the range of applications for thermoplastic polyurethanes. There is huge demand in the consumer, microelectronics and sports equipment sectors for moulded TPU parts that have a pleasant feel and retain their looks upon protracted use. Typical examples are wrist-straps for smart-watches and other wearables, smartphone covers that resist abrasion and discolouration, and soft grips for sports equipment and tools.
Source: TPE Magazine