Industry Insights
The global Thermoplastic Polyurethane (TPU) films market size was valued at USD 361.8 million in 2018 and is estimated to expand at a CAGR of 6.1% from 2019 to 2025. Properties, such as waterproofness, high resilience, and cool temperature resistance, are projected to boost the product demand. Increasing usage of the product in automotive application is projected to be the key factor driving the market over the forecasting period. Thermoplastic polyurethane films are versatile elastomers, which can be used in different applications. Moreover, other properties, such as chemical, puncture, abrasion, and tear resistance, make them ideal for various industrial applications.
The global demand for TPU films has seen an upswing over the last few years, owing to a period of stability in the automotive industry. Key automotive applications include exterior applications, such as scratch protection, paint protection, anti-stone chipping, rear bumper protection, and cowl protection. The product is developed from TPU pellets, manufactured using polyether Polyurethanes (PU) or polyester polyurethanes.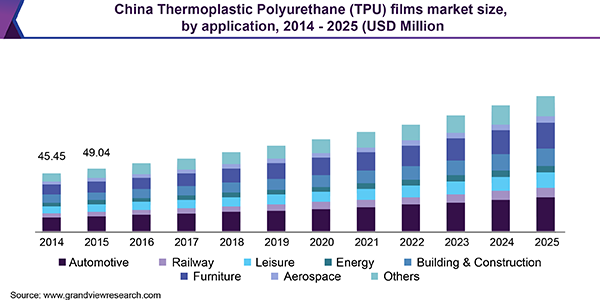 Methylene Diphenyl Diisocyanate (MDI) is also used as a raw material for manufacturing PU. Polyether polyurethanes are used where end-use applications require low-temperature flexibility, hydraulic stability, and fungal resistance. Thermoplastic polyurethanes provide a holistic approach to auto parts manufacturing by covering all of the aspects, owing to which they are vastly preferred by the automobile manufacturers over other materials.
The development of high-performance films has allowed auto manufacturers to lower the overall weight of vehicles to a great extent, resulting in better fuel-efficiency. Rapidly expanding construction sector in emerging regions like Asia Pacific is also projected to propel the growth of the overall market. Despite economic turmoil in most of the rest of the regions of the world, the economic fundamentals in Asia remain robust. GDP growth is said to be around 7% per annum through the end of the decade and the region is expected to be the fastest-growing region over the forecast years.
Application Insights
The automotive segment accounted for the highest revenue share of 22.7% in 2018 and is projected to expand at a CAGR of 6.1% from 2019 to 2025. Increasing production of vehicles is contributing to the segment growth. The product can be used in airbags, acoustic panels, door panels, and anti-vibration panels. The product has the potential to replace metal and plastic components in aircrafts; thus, the aerospace segment is also projected to witness a steady growth. Moreover, expansion of the aviation sector in emerging countries as a result of technological advancements and increasing consumer disposable income levels will drive the segment further.
TPU films are used for making waterproof gloves and costumes, breathable socks, footwear, hats, etc. This is expected to drive their demand in the demand in leisure and sports segment. Increasing demand for sportswear is expected to boost the product demand. Government support promoting sports and fitness is also projected to fuel the segment growth over the coming years. TPU films are highly extensible and tear resistant due to which, these films in combination with textiles is used to manufacture industrial fabric used in the construction industry.
Growing construction segment in developing countries, such as China and India, due to increasing population is expected to boost the building & construction application segment. Rapidly expanding medical sector is driving their demand in medical application. The growth of surgical and diagnostics applications for patient data management, laboratories, and patient care is anticipated to spur the market. Increasing government spending on healthcare supported by growing population are further contributing to this segment.
Regional Insights
Asia Pacific is expected to be the largest and fastest-growing regional market. Government policies favoring different industries coupled with the expansion of the medical, automotive, and construction sectors in the region are likely to drive the region's growth. Increasing consumer disposable income levels are also anticipated to contribute to the TPU Films market expansion.
Government support aimed at increasing the FDI flow along with rising spending capacities in many developing countries is also likely to boost the market. Moreover, focus on infrastructure development will lead to an increased demand from industries, such as railway, building & construction, aerospace, and energy.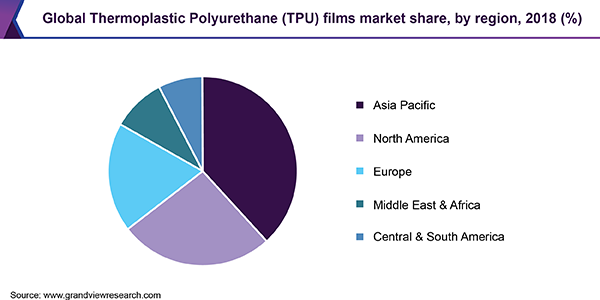 North America acquired the revenue share of 32.24% in 2018. The region is characterized by the presence of medium- and large-scale aerospace and component manufacturers. Increasing agriculture production in countries, such as China, U.S., India, Brazil, Mexico, and Russia, is also projected to assist the overall market growth. Emerging applications including animal identification tags are further expected to provide growth opportunities for the global market over the coming years.
Links: https://www.grandviewresearch.com/industry-analysis/tpu-films-industry