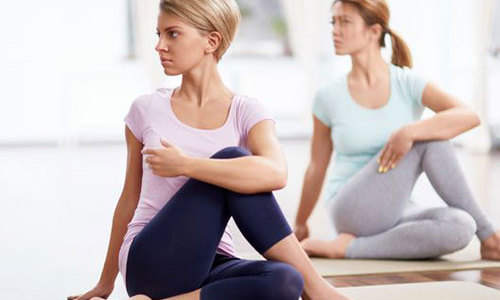 Before you buy a new yoga mat, be sure to read this article in order to understand the different yoga mats material between TPE and PVC.

TPE YOGA MAT
Thermoplastic elastomers (TPE), sometimes referred to as thermoplastic rubbers, are a class of copolymers or a physical mix of polymers (usually a plastic and a rubber) which consist of materials with both thermoplastic and elastomeric properties. Thermoplastic elastomers show advantages typical of both rubbery materials and plastic materials and can be recycled and reused which do no harm to environment after discarding.
TPE yoga mat is mainly composed by Thermoplastic elastomers and other material closed-cell foamed under high temperature which makes it anti-microbial and easy to clean. This mat is Eco friendly with the characteristics of non-PVC, non-toxic, non-heavy-metals and non-irritating odor. Its good elasticity, durability and light weight make it suitable for travel and household use. By the way, it is popular among U.S. and European markets and high-spending groups in China.
It must be said, TPE mat is a new type of yoga mat which occupies a small market share currently, but it's considered to have the biggest market potential because of the high performance and environmental protection.

PVC YOGA MAT
PVC yoga mat is made of PVC resin powder and anti-tearing fiber open-cell foamed under high temperature. Open-cell technology means the mat retains sweat (good for gripping, but bad for bacteria) and oils, but making it more difficult to clean. The PVC material and density of the mat make it competent under any condition outdoors, in a heated room, in a non-heated studio, and with gentle-to-vigorous practices.
In terms of eco-friendliness, the mat is made with PVC rather than TPE or another more environmentally friendly material. A concern with PVC is that it contains phthalates — substances that have been linked to health issues and negative impacts on the environment. However, no toxic emissions are released during production, and its lifetime durability results in fewer landfill dumps, still making it a safe choice for the environment overall.
There's little doubt that, the largest market share is PVC yoga mat. Famous brand Manduka major products are also PVC material mats now. It beat out its category contenders for longevity by a landslide. By the way, if your brand is not that well-known, maybe you could try to choose the other material yoga mat to establish a market.
Source:https://www.bhsyoga.com/different-yoga-mats-material-tpe-pvc-nbr-jute-and-natural-rubber.html