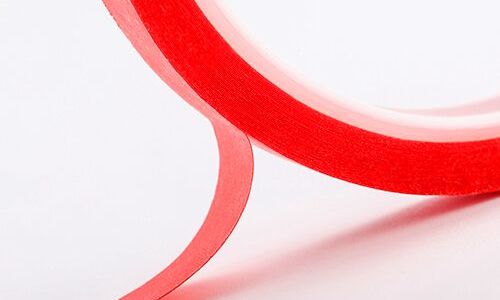 What is Pressure Sensitive Adhesive Tape (PSA)
Pressure Sensitive Adhesive Tape (also known as: PSA, self adhesive, self-stick adhesive) is a major category of adhesive tapes and is a relatively thin flexible material with single or double sided coating. PSA will adhere to a variety of substrates when applied to most clean and dry surfaces with pressure. Pressure Sensitive adhesives do not require solvent, water, or heat to activate the adhesive. The bond is directly influenced by the amount of pressure which is used to apply the adhesive to the surface.
Pressure sensitive adhesives (PSA) tapes are used in many different applications with new uses being discovered almost daily. PSA use will continue to grow as a solution to fastening and joining due to advances in adhesive technology, ease of use, and its low cost compared to traditional fastening systems.
What are the Advantages of Pressure Sensitive Adhesives Tapes (PSA)?
1) Thinner and lighter materials
2) Bonds dissimilar materials without incompatibility concerns
3) Provides vibration dampening and noise reduction
4) Reduces assembly time
5) Eliminates the need for surface refinishing
6) Eliminates visible mechanical fasteners for cosmetic superiority
7) Provides uniform thickness and gap filling properties
What Kind Of Adhesives are Used for PSA Tapes?
Rubber: Adhesives which are based on natural or synthetic rubbers and formulated with tackifying resins, oils and anti-oxidants. Rubber is the most cost effective PSA and offers quick stick capability. Rubber adhesive is not recommended for high heat applications.
Acrylic: Adhesives formulated with acrylic polymers and generally has a better long term aging and more resistance to solvents and environmental factors. Acrylic adhesives typically develop a stronger bond than the traditional Rubber adhesive and are able to take higher temperatures
Silicone: Formulated with Silicone polymers and the only adhesive that will bond well with silicone substrates. Silicone adhesives are relatively expensive and have a very low initial tack, but can withstand higher temperatures than both Rubber and Acrylic adhesive.
What is the Construction of a Typical Pressure Sensitive Adhesive Tape?
Single Coated: An adhesive coated on one side of a material (Facestock). The adhesive is protected by a silicone coated release liner.
Transfer Tape: An unsupported mass of adhesive film coated on a release liner which has a release coat on both sides. Transfer tapes offer good conformability to irregular surfaces.
Double Coated: A carrier is coated on both sides with PSA. The adhesive carrier can be a wide variety of materials including plastic films, tissue, nonwovens, etc. Typical uses include laminates and carpet tape.
Souece:https://www.can-dotape.com/adhesive-tape-consultant/pressure-sensitive-adhesive-tape/